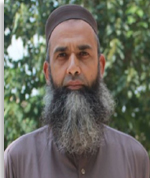 RESEARCH INTEREST:
Development of Genetically modified organism:
Constructed genetically modified organisms and developed tools to development of transgenic plants, bacteria, and yeast. The plant transformation vectors developed were successfully utilized for development insect resistant plants including cotton, maize, rice, and tobacco. The therapeutic proteins including human Epidermal Growth Factor, Insulin like growth factor, interferon etc., have also been successfully cloned and expressed in bacterial and yeast expression system. Currently we are focusing on development of transgenic algae.
TEACHING EXPERIENCE:
• Teaching Molecular Biology courses to M.Phil Classes at CEMB.
• Supervised 16 M.Phil / Ph.D thesis research works of students as supervisor and/or co-supervisor.